Meet Linda Dounia

Linda Dounia, a Senegal based artist, designer, and curator, focuses on connecting the immaterial and material. She examines technology's impact on inequality and envisions sustainable, decolonized futures. Using various mediums like acrylic, ink, pastels, and digital tools, her work has been displayed at notable events worldwide. Linda founded CyberBaat, a collective of African artists seeking fair representation in the digital art space. Linda minted her first NFT in April 2021 and reached an all-time high on primary in August 2021, selling her piece 'No-Content-Error' for 2.5 ETH on Foundation.
Could you tell us about your story and how you got introduced to the NFT space?
I had been a visual designer for nearly a decade making art during my off-time. It got to a point where I couldn't be bothered about a client's needs on a project and just wanted space to explore form for its own sake.
I decided to look for ways I could make the leap into professionalizing as an artist and found that since I hadn't attended art school and didn't have an established network in the traditional art world, residencies were probably my best bet.
While looking for and applying for residencies, a friend of mine told me about NFTs – at first, the idea was to build a small market while waiting to be accepted in a residency.
As I learned about the technology and its accessibility for people with my background, I decided to invest myself fully in NFTs as a means to share my work with the world.
What inspired you to start creating NFTs?
One of the most attractive features of NFTs is the ability to retain ownership over my work and continue to profit from secondary sales through the smart contract.
The second feature I have come to enjoy is the ability to shape how and how often I interact with the world – as an introvert with social anxiety, the idea of socializing being an integral part of an art career was frightening to me.
I also like that I can provide collectors with proof of provenance through the smart contract, and can retain ownership and profit from my work in an automated way. I have agency over how my work is sold and who it is sold to. As an artist who happens to be black, African, and a woman, this is revolutionary.
The relative absence of middlemen in the NFT space means fewer gatekeepers, which means I am more visible in the NFT space than I would have been in the traditional art market (or at least it would have taken me much longer to get to where I am in my career). It also means I retain the bulk of my earnings in perpetuity, which is almost unheard of for someone like me.
What was the first NFT you created?
The first NFT I created on the Ethereum blockchain, which was minted on OpenSea on April 3, 2021, is 'How White Men Started The Apocalypse'. It never went up for sale and I don't think I will ever sell it. I am attached to it because it was my first time connecting a crypto wallet to a blockchain and signing a transaction.
So many incredible things have happened since then and I think I want to keep a memory of that catalytic moment. It's actually the cover image for a series of 5 artworks, which I later decided to mint individually on the Tezos blockchain (Hicetnunc), on April 22 2021. I remember I sold them for 2 XTZ, and when they sold quickly, I thought it was insane that people actually wanted to buy my work.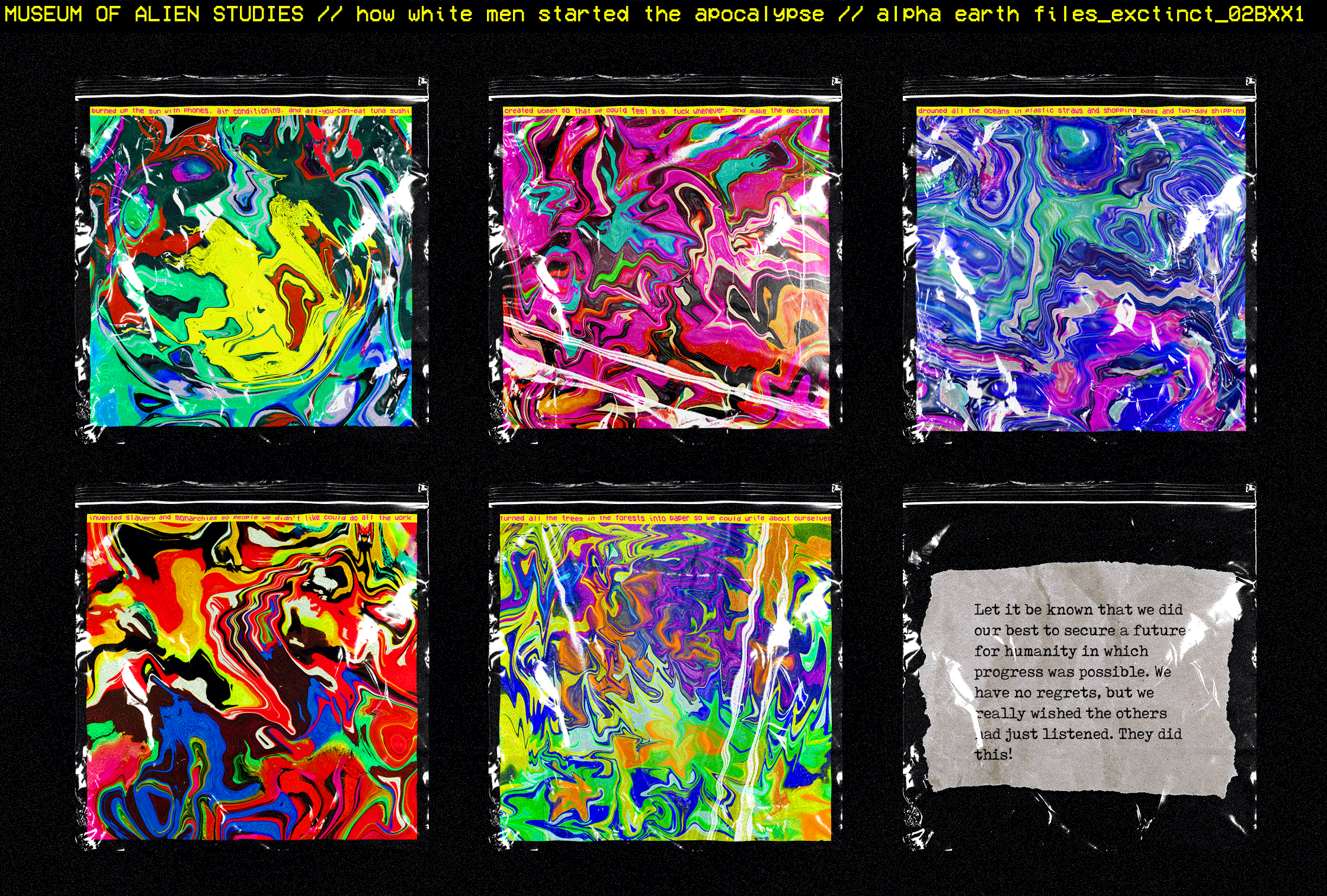 Which tools do you use to create?
I spend an enormous amount of time just playing around in my studio. Some of the experiments end up in pieces I make but really, I am just channeling my 5-year-old self, enjoying how it feels to make a mark, to layer it with another mark, to dislike the result and use other marks to bring it home.
So, I use all kinds of things in my practice. There are the basic art-making digital tools, like the Adobe Suite (mostly Illustrator, Photoshop, and AfterEffects), Procreate, Nomad Sculpt, an older version of Microsoft Paint (which is where I first made a digital drawing when I was about 8).
I use a range of conventional painterly tools, like acrylic, ink, pastels, oil, spray paint, markers, and collage materials. I also use some analogue devices, like scanners, printers, label makers, projectors, film and instant cameras. I recently fell in love with old office tools, like receipt books, filing stickers, or stamps and stamp pads which I recently stocked up on.
I have been training my own GANs for the past couple of years, and recently started incorporating generative AI tools like Stable Diffusion or Midjourney.
Finally, I love using tools not intended for art making to get marks I wouldn't get otherwise, like kitchen tools, different materials (cardboard strips, styrofoam, aluminium sheets, fabrics, etc.), soap, plants, etc. – anything I might pick up that tickles my curiosity and makes me wonder what I could get messing it around with it in my studio.
What are your biggest influences or sources of inspiration?
I am inspired by abstract expressionists – Alma Thomas, Elaine de Kooning, Perle Fine. I am also inspired by contemporary abstract artists like Julie Mehretu, Trudy Benson, and Eva Isaksen.
Finally, I get a lot of inspiration from peers in web3, like Tony Wallstrom, Lisanne Haack, Roberto Rivadeneira, Klahr, Valeriana la infusión, Tim Romanowsky, and Holladay Saltz.
What has been the most rewarding part of being involved in the NFT space?
I have been fortunate to build a community around my practice and work – there are people who vibe with what I have to offer and encourage me along the way, people whose work I love and maybe have collaborated with, people who are interested in making web3 a safe and inclusive space where the old world rules like cut-throat competition and exclusion don't have to apply.
That being said, web3 can be brutal, from market fluctuations to sometimes feeling unseen – it's not for the faint of heart. But I am immensely grateful for what I have been able to build on the blockchain so far. I wouldn't be where I am today without it.
What advice would you give to someone starting out as a creator within the NFT space?
Find your tribe! You'll hear the word community floated around the space a lot and it's not just fluff.
Finding fellow artists who you vibe with and feel safe around is critical to making your experience on the blockchain pleasurable. It is possible to find safety, comfort, and a solidarity-based architecture if you look for it.
How do you cultivate a relationship with collectors?
When I had a few collectors, I made it a point to reach out to them and open lines of direct communication. It's a very special perk of being in web3
My goal was always to deepen my relationship with them, not necessarily shill. I am happy to have met incredible friends that way. Nowadays, I think I have over 350 collectors across different blockchains.
It's much harder to DM everyone so I recently started releasing a monthly newsletter to keep them abreast of what's going on in my world.
As a creator, is there something that you feel is missing in the current NFT space?
I think we need more bridges for artists to understand what NFTs are and how they might be beneficial to their practice. Education has always been lacking in the space. Someone considering joining web3 is immediately overwhelmed by the amount of complex information and jargon.
They are also very vulnerable to opportunistic scams. I wish there were more holistic programs and residencies like Verticalcryptoart and Wild Residency to help shepherd more artists safely into the space.
Another thing I think we could all do better is to be mindful of how Twitter can create echo chambers. Most of us interact primarily on Twitter as Discord can be overwhelming. But Twitter is a limited tool. If you're not careful about curating your feed well, turning on notifications strategically, and dedicating time to finding artists manually, you might quickly find yourself in an echo chamber where you only see content from the same people (often artists who've already broken through the noise and found success).
How do you see AI impacting creators in the coming years?
Having experimented with AI in more ways than I could possibly fathom, I feel a deeper sense of progression and connection with my craft. It scratches my itch for divergence and scale, and it's a bottomless pit of exploration. This is why the question of whether AI art is art bores me deeply.
The art market can noodle on it as long as it wants while artists do what artists have always done: experiment and produce with tools at the edges of human cultural consciousness.
I often wonder how will artists affect humanity's perception of AI? What will our role be in normalizing AI, from a cultural standpoint? What will be our contribution to its mainstream adoption?
I think we, artists, are going to play an important role in shaping the reputation of AI in the mainstream, but more excitingly, I think web3, by being an accepting space for digital experimentation, is actually a potent ground for discovering new intersections of AI and art.
You just have to look through Claire Silver's AI competition to get your mind buzzing with all the possibilities.
If you would have to convert an NFT skeptic to an NFT enthusiast or die, how would you go about it?
I'd probably start with my story. For me to be a professional artist today and make enough from it to live wouldn't have happened without NFTs.
The art world is notoriously exclusionary, and because I did not go to art school or had connections to the gallery circuit, it was unfathomable to me that I would ever get discovered. Then there is the fact that I can retain ownership and profit from my work (including royalties) in an automated way in perpetuity. That would sell any artist seriously concerned with their legacy.
Lastly, I don't think there is any space at the moment on the planet that's as accepting of digital art and all the shapes it can take. So, any artist using digital tools or making purely digital art would be remiss to not at least watch what's happening with web3 and NFTs.
What's the best piece of advice you have been given?
There are two and I can't decide so here are both:
Show up and make. No matter what's going on, how you're feeling about what you are making, whether you feel like you're making any progress, just show up and make art. Mastery doesn't happen without repetition. Doing things over and over and over again until they make sense, until they become second nature. Mastery is also not a destination. There is always more to learn if you keep digging, if you keep showing up. There is literally no limit to how much you can grow as an artist if your focus is to deepen your craft.
The value of your art, your artistic practice specifically, is not determined by how much it's purchased for or whether it's even purchased. Sales are not an indication of the quality of your work and practice. Creating art and creating a demand for it are two wildly different things.
What is your favorite meme?
Gosh! I have loads. My favorite activity is collecting memes. So here is my most recent screenshot:
You can find Linda and her work via the following links: