Meet Sara Baumann
Sara Baumann, known as Sparky, is an Iranian-American multimedia artist. Sara discovered NFTs in 2021 and within a year left the life of a full-time occupational therapist to become a full-time artist and successfully launch Women and Weapons, now a multi-million dollar NFT collection. Today Sara is on a mission to get more women, minorities, and everyone in-between involved in the NFT space.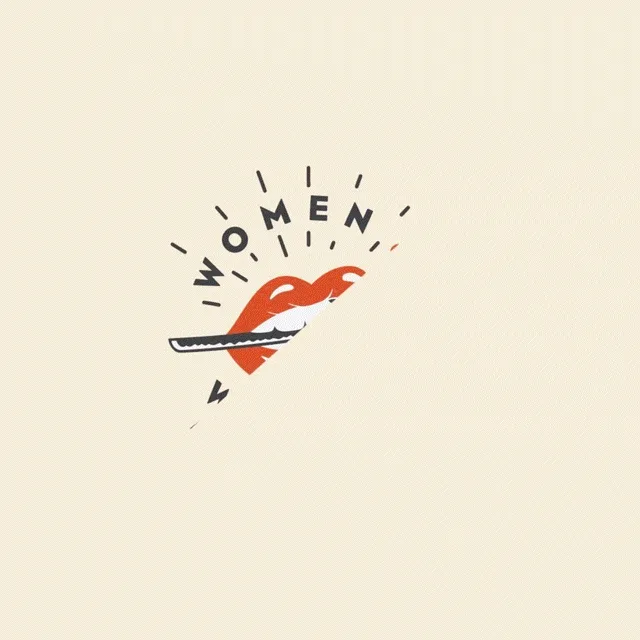 Could you tell us about your story and how you got introduced to the NFT space?
My story is bananas. I came from the healthcare field and had been working as an Occupational Therapist for five years in both outpatient therapy and acute care. I have, however, always been passionate about art and have worked for years to find a way to make it my full-time career.
My husband, Jake, started learning about NFTs in early 2021 and kept nudging me to look into it. It took me a bit to come around to it, simply because of the complexity of the jargon and the tech, but once I finally did, I really fell in love with the community.
I saw the many possibilities that could come from the technology, recognized how it could benefit artists and was incredibly impressed by the variety of people from diverse backgrounds it brought together.
What inspired you to start creating NFTs?
I painted my original 10-piece gouache Women and Weapons collection throughout 2020. Me and my family, friends, and husband were all super proud of the collection.
Jake recognized that NFTs were really something so unique and special for artists. That's when I realized that I needed to bring my physical artwork into the world of NFTs.
What was the first NFT you created?
I messed around with deploying things with the rudimentary creator tools available when I started, but the first real NFT I created was 'Women and Weapons #0001'. It is a self-portrait and is now owned by Gary Vaynerchuck.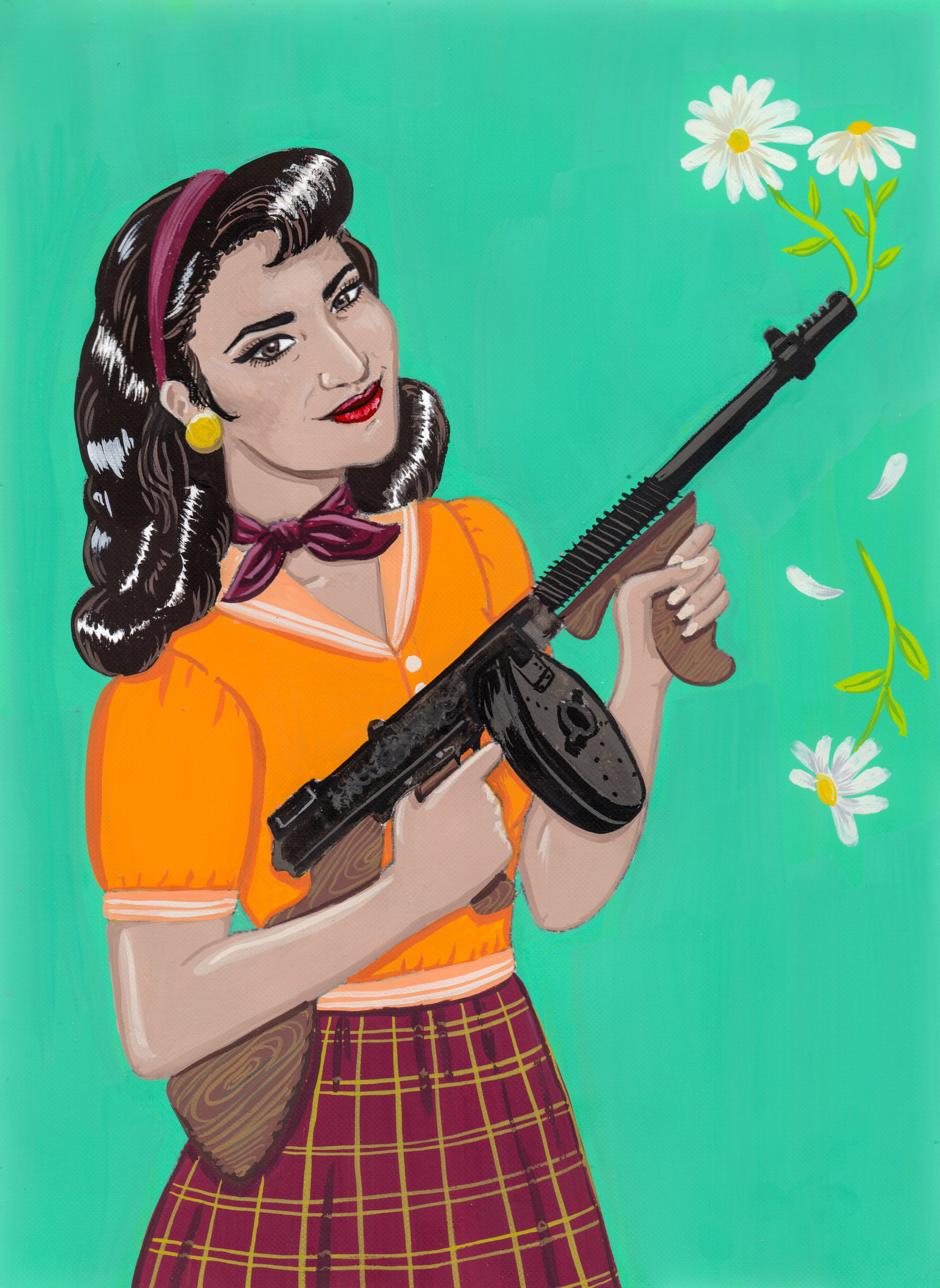 Which tools do you use to create?
It depends on how I'm feeling. My first love will always be paintbrush and canvas. I love to paint with acrylics and oils, but I have also painted on paper with gouache and have created digital work on the iPad with my Apple Pencil
What are your biggest influences or sources of inspiration?
I think some of my biggest influences are narratives in culture. For example, the general way women were portrayed in the mid-century era as being less than, and instead, I wanted to highlight the incredible things women did at that time and have always been amazing at.
But I am also very much influenced by nature. I love florals, skulls, and textures found in nature.
Can you tell us about Women and Weapons and what led you to launch your own NFT project?
Women and Weapons was essentially birthed from the 10-piece gouache painted collection. It is an empowering collection with unique and badass women who bear their metaphorical and symbolic weapons. At the time the project was launched, the representation of women in the space was low, and there wasn't a reflection of myself in the space. This is a big part of why the collection developed.
At the time the project was launched, the representation of women in the space was low, and there wasn't a reflection of myself in the space. This is a big part of why the collection developed.
Can you tell us more about Nova and her ability to SuperNova in the NFT area?
She is a fully-rigged 3D digital influencer that we control through motion capture. She will begin to build up to creating content at a rapid pace for herself and Women and Weapons and hopefully introduce the brand to an entirely new audience.
What has been the most rewarding part of being involved in the NFT space?
One of the most rewarding things has been having the opportunity to get to know our community. We have developed such deep ties and friendships with many incredible people from diverse backgrounds.
Not only that, but watching individuals from our community have the opportunity to foster friendships and business partnerships and offer one another a lending hand or lending ear has been nothing short of amazing and humbling.
What advice would you give to someone starting out as a creator within the NFT space?
One of the most important things is to remember to be yourself and create something unique! Be sure that you have the best intentions at heart and always do the right thing. Create what makes you happy.
How do you cultivate a relationship with collectors?
Spend time with them. Whether you're on Twitter Spaces, Discord, DMs or meeting in person. We've had a great time getting to know so many of the people in our community and really establishing some lifelong friendships.
What do you think are the biggest opportunities within the NFT space in the coming 5 years? Culturally, artistically and financially?
I think wallet security, onboarding, creator tools, gaming, and community tools are the most significant opportunities. That being said, this space evolves rapidly, and the industry could take us in an entirely new direction with totally different opportunities before we know it.
As a creator, is there something that you feel is missing in the current NFT space?
Clarity around regulation and what is available to creators and brands. Most people have the best intentions and want to do the right thing, and they need to be armed with the knowledge of what they can and can't do when creating in this new space.
If you would have to convert an NFT skeptic to an NFT enthusiast or die, how would you go about it?
I would sit down with them and explain the use cases associated with the technology. One of the most significant barriers for nay-sayers is that they see it only as an ecosystem for pumping and dumping. Not often are they shown or educated about the use-cases with the incredible technology here.
What's the best piece of advice you have been given?
Be kind, for everyone you meet is facing a battle you know nothing about. I think no matter how crazy, tough, sad things get, we need to remember to conduct ourselves with kindness, respect, and understanding.
What is your favorite meme?
Even though I understand they are powerful, I'm not the biggest meme gal. I'm too old!
You can find Sara and her work via the following links: